独立記念日 Independence Day
(English report follows after Japanese)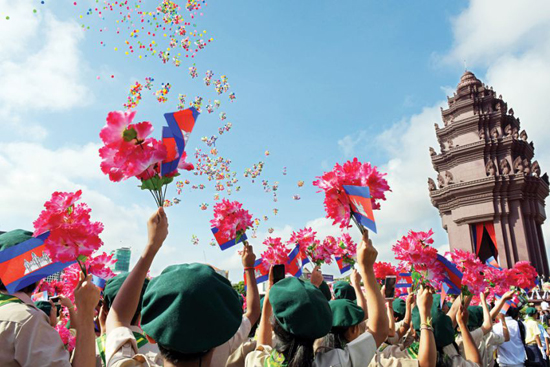 Photo Credit: Tourism Cambodia
2020年11月9日、カンボジアは67回目の独立記念日を迎えました。カンボジアは、かつてフランスの植民地でしたが、ノロドム・シハヌーク前国王の尽力によって、1953年11月9日に独立いたしました。フランス支配からの独立を記念するため、1958年プノンペンに独立記念塔が建立されました。
この度、カンボジア67周年独立記念日を迎えられましたこと、カンボジア政府及び国民の皆様に対し心よりお祝い申し上げます。皆様の益々のご健勝とご繁栄をお祈り申し上げるとともに、今後ともカンボジアと日本の友好関係及び協力関係が発展し続けますよう祈念いたしております。
英字新聞ジャパンタイムズ11月6日付「カンボジア独立記念日特集号」に掲載された記事は、下記リンクからご覧いただけます。
20201106-Cambodia_National_Day_Special
---
Today, 9 November 2020, is the 67th Independence Day in Cambodia. Cambodia used to be under the French colonial rule, until it gained its independence on 9 November 1953, following a successful Royal Crusade led by the late King Father Norodom Sihanouk. A Independence Monument was also built in 1958 in Phnom Penh to commemorate Independence Day.
Through here, we would like to express our warmest congratulations to the Royal Government and people of Cambodia on the occasion of Cambodia's 67th Independence Day. We wish all Cambodian nationals good health and prosperity, and may the close bilateral ties between Cambodia and Japan continue to grow even stronger in the coming years.
You can also read about Japan Times's Cambodia National Day Special article here.
20201106-Cambodia_National_Day_Special